The General Data Protection Regulation (GDPR) is a major piece of legislation that impacts how businesses handle personal data of EU citizens. Failing to comply can result in hefty fines, so it's crucial for companies to get up to speed on GDPR requirements. This interactive checklist is modeled directly from the official GDPR.eu checklist and outlines key steps you should take to ensure GDPR readiness for your SaaS business.
Before you begin, be sure to check out GDPR implementation examples to get a sense of what you are aiming for. If you're looking for an easy way to become GDPR compliant, check out ComplyDog, a GDPR compliance software that makes it easy for B2B SaaS startups to achieve compliance. The interactive GDPR checklist you see here comes pre-built into the software, which helps you document your compliance efforts and saves your progress in one centralized place.
As a reminder, nothing on this page counts as legal advice (always make sure to consult with a lawyer).
If you're ready to see what it takes to become GDPR compliant, let's begin!
Table of Contents
For organizational purposes, we've divided the GDPR compliance checklist into four categories. You can click on each category below to be taken to its respective section on this page.
Lawful basis and transparency
Data security
Accountability and governance
Privacy rights
As you can see, a lot of work goes into making your SaaS GDPR compliant. But the journey to compliance doesn't have to be painful and complex.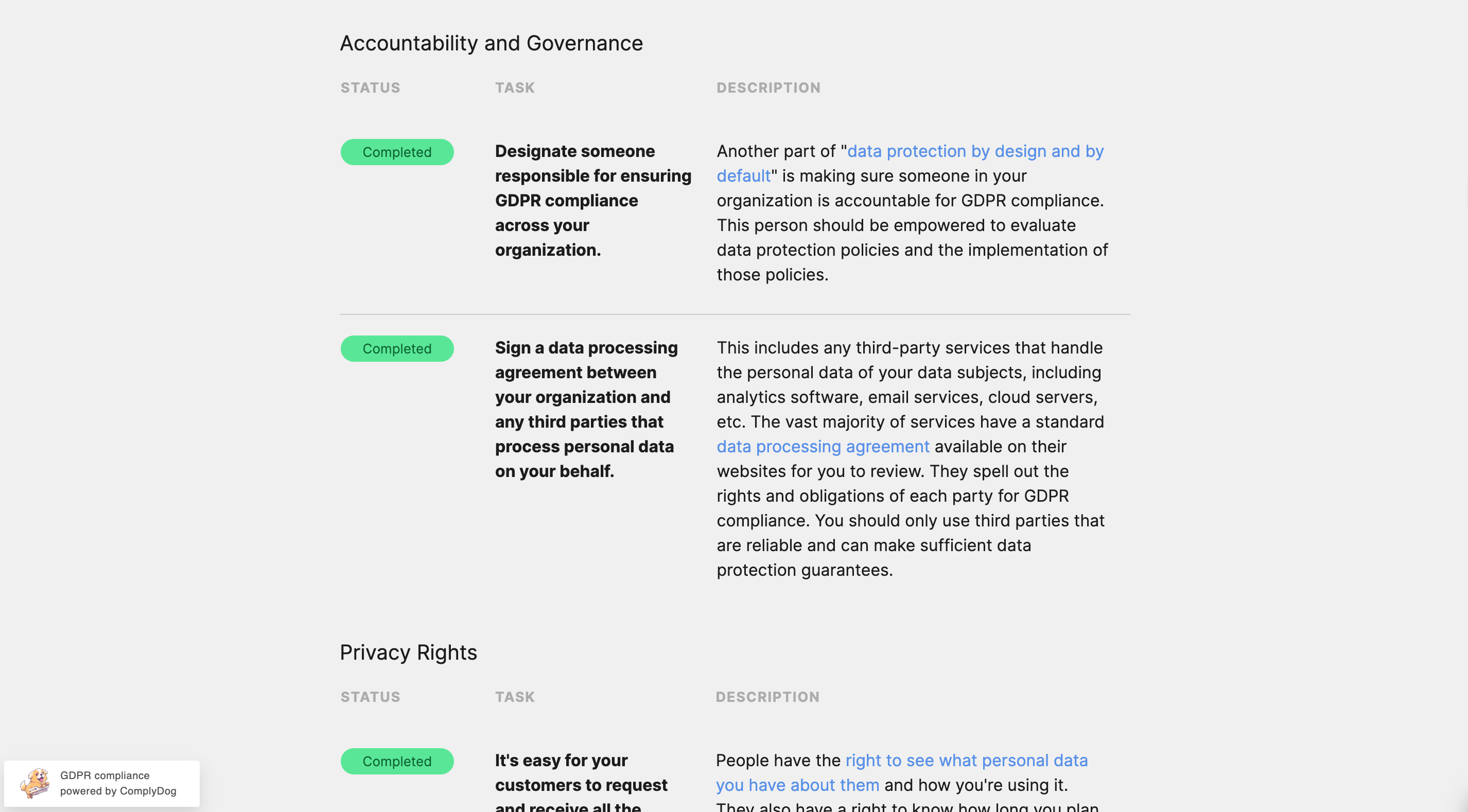 Image source: A ComplyDog customer's compliance portal
If you're looking for an easy way to become GDPR compliant, ComplyDog helps yours efforts by providing the above GDPR checklist out-of-the-box while allowing you to save your progress. If your prospects and customers require you to be GDPR compliant, ComplyDog is a no-brainer that allows you to showcase your compliance efforts. We even provide a free trial with no credit card required -- sign up here.