Image source: "Code Projected Over Woman", by ThisIsEngineering, licensed under Free to Use
The General Data Protection Regulation (GDPR) is widely recognized as one of the strictest regulations globally, whose purpose is to safeguard the personal data of users. The GDPR applies to any organization that handles the personal data of European Union (EU) residents, and non-compliance can lead to penalties exceeding €20 million.
If you're looking to expand into the EU market but are feeling overwhelmed by the complexities of this regulation, you've arrived at the right place.
In this article, we'll explain GDPR compliance in detail and see how it applies to B2B SaaS companies. We'll also dive into the ten basic steps for how to be GDPR compliant so that your B2B SaaS business can avoid any penalties or reputational damage.
What Is the General Data Protection Regulation (GDPR)?
The General Data Protection Regulation (GDPR) is a comprehensive data privacy regulation that governs the collection, processing, and storage of personal data of individuals within the European Union (EU) and the European Economic Area (EEA). Implemented on May 25, 2018, GDPR aims to give EU citizens more control over their personal data and ensure that organizations adhere to strict data protection principles.
Who Needs to Comply With GDPR?
Whether you're an embedded analytics software company or loyalty program software provider, the GDPR regulation applies to any company, regardless of its location, that processes the personal data of EU residents. GDPR mandates that companies follow key principles, such as obtaining clear consent for data processing, ensuring data accuracy and security, and upholding data subjects' rights. Non-compliance can result in significant penalties, including fines of up to €20 million or 4% of global annual turnover, whichever is higher.
What Does This Mean for B2B SAAS Companies?
For B2B SaaS companies, the General Data Protection Regulation (GDPR) has significant implications, as these companies often collect, process, and store the personal data of their customers and end-users, many of whom may be EU residents. As a result, B2B SaaS companies must ensure they are compliant with GDPR, regardless of where they're located.
If you're a B2B SaaS business, here are some ways how GDPR applies to you: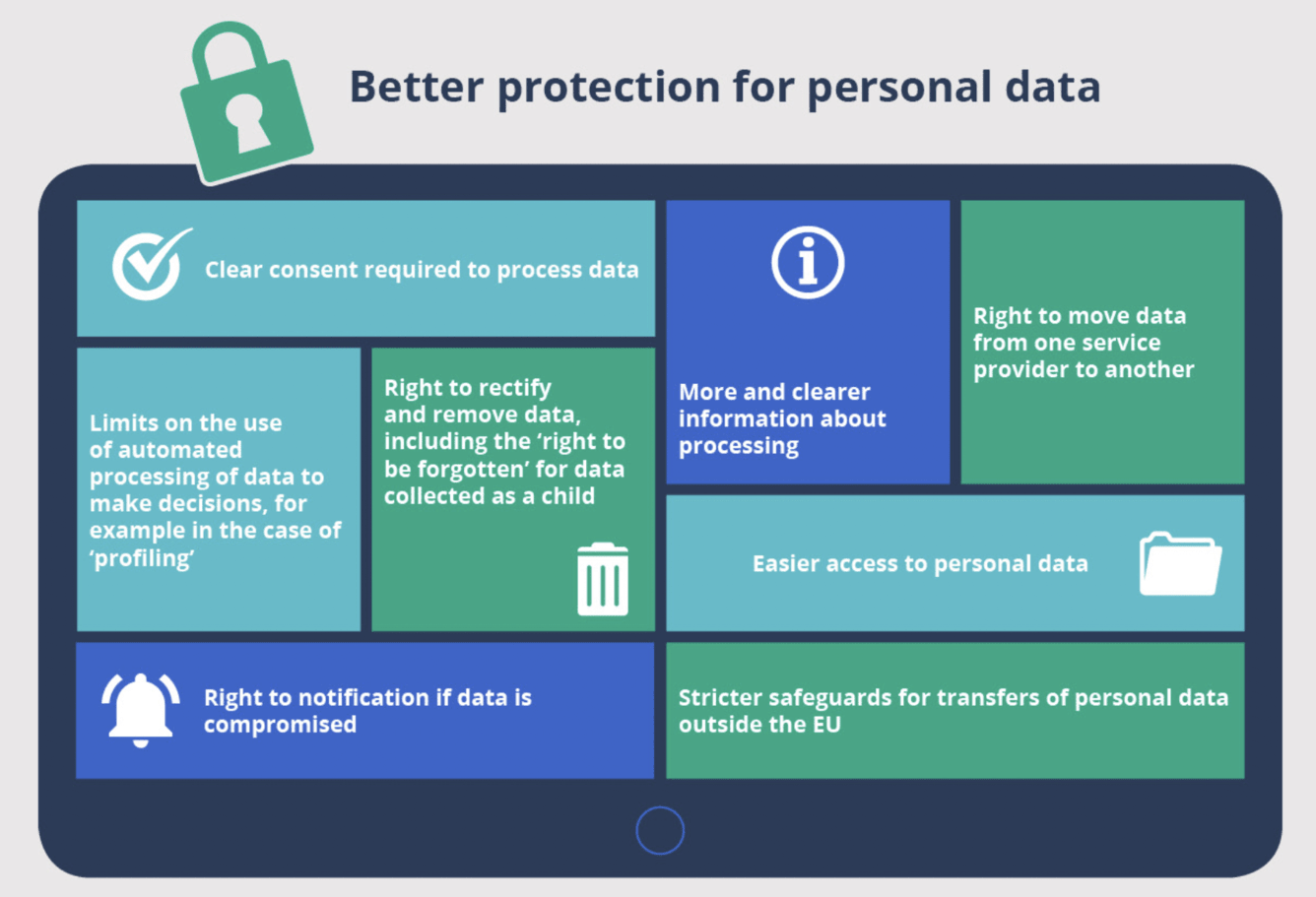 Image source: "Infographic - Data protection regulation" by the Council of the European Union
10 Basic Steps for GDPR Compliance
In this section, we'll outline ten basic steps for how to be GDPR compliant. By following these steps, you can establish a robust data protection framework, enhance user trust, and avoid potential penalties so that your business remains both competitive and compliant in today's data-driven world.
Let's dive in!
#1 Understand GDPR Requirements
Understanding GDPR requirements is the first crucial step toward compliance.
You can begin by familiarizing yourself with the seven key principles of GDPR, such as lawfulness, fairness, transparency, data minimization, accuracy, storage limitation, and accountability.
Once you learn the key principles, the next step is to review the legal bases for data processing, including consent, contractual necessity, legal obligation, vital interests, public interest, and legitimate interest. Also, don't forget to learn about data subjects' rights, such as the right to access, rectify, erase, restrict processing, and object to processing, as well as data portability.
Another tip is to research guidance from relevant supervisory authorities and consult resources provided by the European Data Protection Board (EDPB).
Overall, by gaining a comprehensive understanding of GDPR requirements, your company can ensure that its data processing activities align with the regulation's expectations, and ultimately avoid potential penalties and demonstrate your commitment to data protection and privacy.
#2 Identify Your Personal Data and Processing Activities
The next step for how to comply with GDPR is to find out what personal data your company handles and how it's processed. Personal data includes any information about a person, like names or email addresses. Map out how this data moves within your company by identifying where it comes from and what it's used for.
Also, determine the reasons behind each data processing activity and assess whether it adheres to GDPR regulations. Evaluate the legal bases for processing, such as obtaining consent, fulfilling contractual obligations, complying with legal requirements, protecting vital interests, performing public interest tasks, or pursuing legitimate interests. Ensure that the chosen legal bases align with the GDPR's expectations and requirements.
Next, analyze whether your company acts as a data controller that determines the purposes and means of processing or as a data processor that processes personal data on behalf of the data controller. It's crucial to understand and document these roles, as they entail different responsibilities under the GDPR.
By knowing what personal data you handle and how it's processed, your company can be transparent, handle data properly, and address people's data rights. This information also helps with assessing data protection risks and keeping records of data processing activities.
#3 Appoint a Data Protection Officer (DPO)
The third step involves appointing a Data Protection Officer (DPO) if required by the GDPR. A DPO is a designated person responsible for ensuring that a company complies with data protection regulations and implements appropriate data protection measures.
You need to appoint a DPO if your company:
The primary responsibilities of a DPO include:
By working with a DPO, your company can receive expert guidance on GDPR compliance, reduce the risk of non-compliance, and demonstrate a commitment to data protection.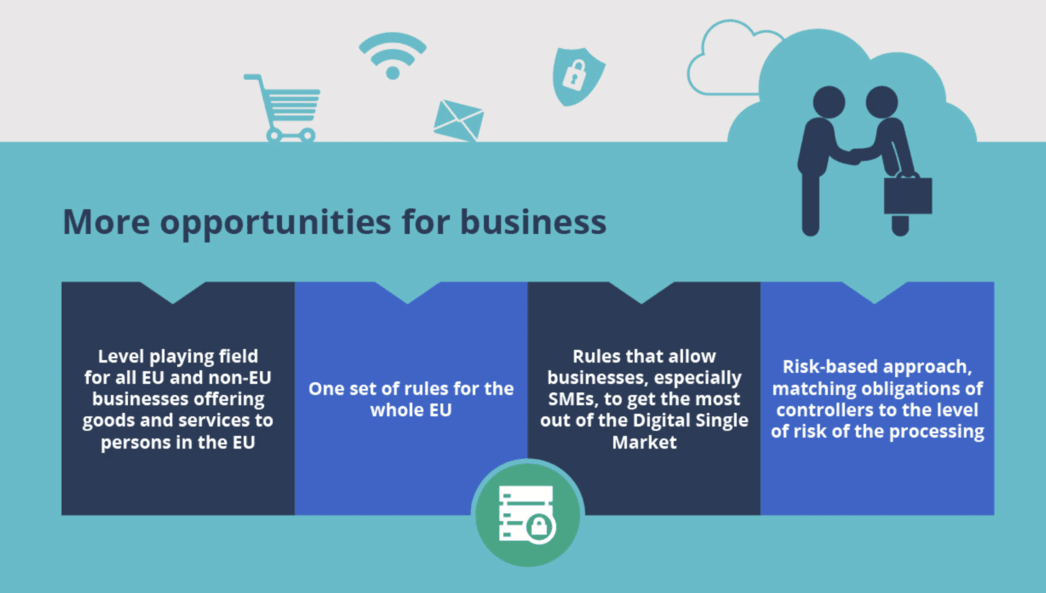 Image source: "Infographic - Data protection regulation" by the Council of the European Union
#4 Incorporate Data Protection From the Outset and as a Standard Practice
When developing new products, services, or processes, always consider data protection requirements. This includes being mindful of collecting and using only the data that's critical for the specific purpose. What's more, ensure the data is stored securely, and implement proper access controls to protect sensitive information.
By making data protection a priority from the beginning and integrating it into daily operations, you can effectively reduce privacy risks, build user trust, and maintain compliance with GDPR regulations. This approach can also help you create a strong data protection culture within the company.
#5 Obtain Lawful Consent for Data Processing
The fifth step for how to comply with GDPR involves ensuring your company has a valid legal basis for processing personal data under the GDPR. Consent is one of the most commonly used legal bases and requires obtaining clear, explicit, and informed agreement from data subjects before processing their data.
To obtain lawful consent, follow these guidelines:
#6 Develop a Data Breach Response Plan
A data breach can have significant consequences, such as reputational damage, loss of customer trust, and potential GDPR penalties. To ensure your company is prepared to effectively respond to any data security incident, you must develop a data breach response plan.
To develop a data breach response plan, follow these steps:
#7 Conduct Regular Data Protection Impact Assessments (DPIAs)
This step involves identifying and evaluating potential risks and data protection impacts that may arise from a particular project or business activity. A DPIA can help you anticipate and address privacy risks and ensures compliance with the GDPR's requirements for data protection.
Follow these steps to conduct a DPIA:
By conducting regular DPIAs, companies can identify and mitigate privacy risks, demonstrate compliance with GDPR requirements, and build customer trust and confidence.
#8 Establish Procedures for Data Subject Rights
The next step for how to become GDPR compliant involves ensuring that data subjects have the right to exercise their GDPR rights, such as the right to access, rectify, erase, restrict, and object to the processing of their personal data.
Establishing procedures for data subject rights is important for GDPR compliance. It can help you build customer trust, avoid penalties, promote transparency, and enhance data protection.
Here are the steps to establish procedures for data subject rights: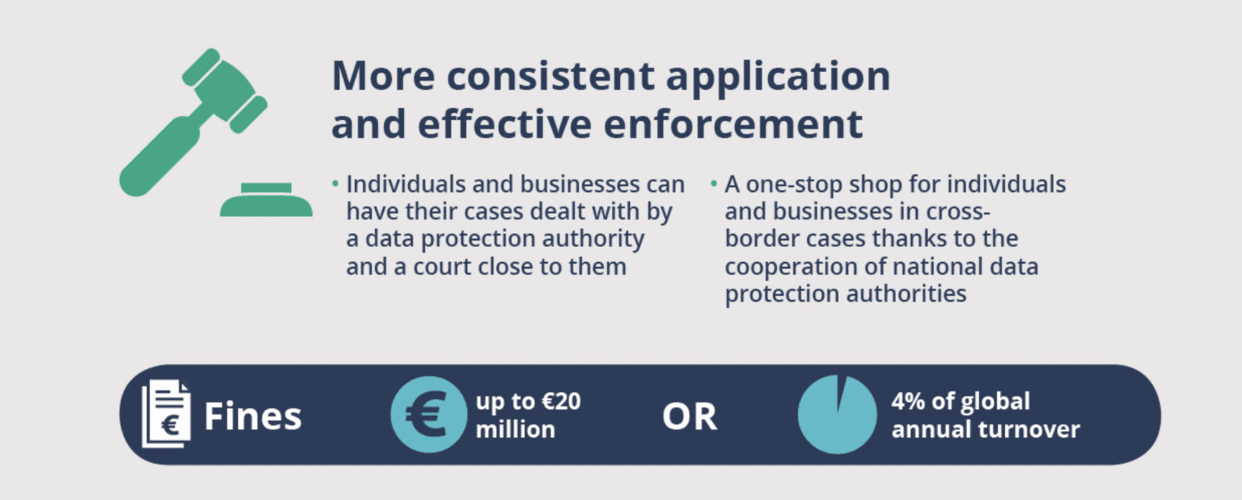 Image source: "Infographic - Data protection regulation" by the Council of the European Union
#9 Maintain Records of Data Processing Activities
Maintaining records of data processing activities is critical for GDPR compliance, transparency, mitigating privacy risks, and building trust with customers and stakeholders. It involves keeping detailed documentation of all the personal data processed by your company, including your purposes, sources, and recipients.
To maintain records of data processing activities, first, identify the scope and purpose of all data processing activities. This includes determining the types of data being processed, data sources, and data recipients. Once you have identified the data processing activities, document the data flows by creating a record of where personal data is collected, processed, and stored and the purpose for which it is used.
Next, record any data-sharing agreements or data transfers, including the recipients and the legal basis for the transfer. Regularly review and update the records of data processing activities to ensure that they are accurate and up-to-date.
#10 Train Employees and Create Awareness
Employees play a crucial role in protecting personal data and ensuring compliance. That's why it's so important to train them on GDPR requirements and best practices. This can help mitigate privacy risks, avoid penalties, and demonstrate a commitment to data protection and accountability.
To train employees and create awareness, follow these steps:
ComplyDog Helps Businesses Remain GDPR Compliant
If you're wondering how to get GDPR compliant, it's important to understand the significance of complying with GDPR. The regulation affects every business and has a significant impact on privacy and security. To become GDPR compliant, follow these ten simple steps, implement recommended measures, train employees, and seek legal advice to ensure proper compliance. Additionally, we've created a more comprehensive GDPR compliance checklist that you may want to check out for a step-by-step guide. By taking action now, you can protect your B2B SaaS business from penalties, legal action, and reputational damage.
ComplyDog helps your GDPR compliance efforts by providing you with the best GDPR compliance software and GDPR portal that handles all data requests in one click.